Chemicals that Cause Dog Itchy Skin
Sometimes it's easy to forget the products and chemicals that we use to beautify and protect ourselves and our homes can be dangerous — even deadly — to our dogs.
Make a conscious effort to purchase organic, natural and safe sprays for your home. If a product is questionable, don't use it! And if you just must…then keep your dog far away.
The following is a list of potentially harmful sprays and chemicals that you might have lying around your house.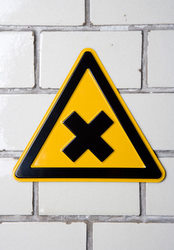 Carpet cleaners, deodorizers, and brand new carpet
Cat litter
Cement
Certain medications such as neomycin
Chlorinated water
Dishwashing detergents
Disinfectants
Fertilizers
Home furnishings, fibers, dyes, polishes and cleansers
Lanolin
Leather and metal collars (click here for top reviews of safe adult and puppy collars and leashes)
Rubber and plastics
Soaps and shampoos, petroleum-derived products
This list merely scratches the surface of possible irritating chemicals to keep far away from your dog.
A good rule of thumb? Keep most man made products in a place your dog can't get to.
This article was reposted by New York Dog Nanny.